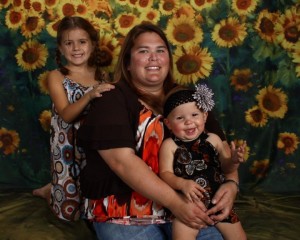 Burleson Child Development Center, Inc. was founded on January 2, 2010, by the owner Kelly Mason.  Kelly is certified through ECMI Early Childhood Management Institute to be the Director, is a  member of TLCCA-Texas Licensed Child Care Association, and NAEYC-National Association of Education for Young Children.  Kelly graduated high school in three years, with 16 college credits and a CNA-Certified Nursing Assistant certification. She worked at Silver Haven Nursing Home, Huguley Hospital; attended Purvis Real Estate School and was a certified Real Estate Professional.  She attended Tarrant County College where she obtained her Associate's Degree.
Kelly is a  mother to her step-daughter, and her three little girls.  Her children are the light of her life and she has been truly blessed when it comes to family.  She grew up with 3 brothers and 2 sisters, so there was never a dull moment in the house.  Having so many brothers and sisters has given her 19 nieces and nephews.
When Kelly was 3 years old, Patricia Anthony, her mother, founded Kid's Kampus Creative Learning Center, Inc., here in Burleson,  When Kelly was 16 years old her mother sold it to the current owner. Now 16 years after Kid's Kampus on Newton Dr sold Kelly has purchased that back from them. This center is now Burleson Child Development Center, Inc #2. Kelly grew up working for her mom and continued working for the new owners as did many of her current employee's.  It has always been Kelly's desire to have a child care facility.
Now her dream has come true; she has developed two very successful center's  these past 7 years.
Philosophy
We believe all children have a natural desire to play, to explore, to learn and to express themselves as individuals. As children engage in their environment, they strive to understand the world and all its properties and mysteries. As they grow, children develop relationships with peers and adults and learn to communicate to express themselves and their ideas. Their engagement in their environment and relationships with others are experiences that help children build on their understanding of the world and their place in it. At Burleson Child Development Center, Inc., we want children to express themselves freely, to think critically, to work collaboratively and to live and explore actively.
The cornerstone of Burleson Child Development Center, Inc. program is a conviction that each child is unique, highly capable, and has a right to be valued and respected for who she or he is. We believe that high self-esteem is an important goal for children, and this belief underlies all decisions, systems, policies, and planning, and generates a feeling of respect by and for each individual. We believe that healthy, respectful relationships are the most significant factor in developing self esteem; therefore, we emphasize the importance of communication skills in our staff training.
Goals of Burleson Child Development Center, Inc.
For Children…an environment which encourages children to
develop a love of learning
be part of a community of friends
develop a positive sense of self
to communicate ideas effectively
to explore, discover, ask questions and find solutions
use their whole body effectively
practice basic safety and health habits and understand why they are important
For Parents…a program which provides
high quality child care that supports their family's schedule
support of their relationship with their child
opportunities to increase understanding of infant and child development
opportunities to contribute to their child's program
recognition that parents' needs and concerns
encouragement to trust their ability to resolve parenting issues
mutual support from and for other parents
For Staff…a work environment which helps
develop greater understanding of young children
foster problem-solving through active listening and collaboration
interact with children in non-authoritarian, authentic and respectful manner
facilitate learning opportunities which are relevant to the children
gain insight about themselves and their capabilities
to build relationships with children and team members to reach mutually shared goals
gain work experience and training applicable to future employment
gain knowledge of professional practices and ethics in the field of early childhood